Holiday Barbie Past, Present & Future
From photographs to where you can buy them at the best price, here is everything & anything related to Holiday Barbie dolls.
For more than 25 years, Holiday Barbie has been delighting fans with each new release. She isn't just an icon, she is a memory and bond that family members pass on and share. Delighting everyone from women to men and children of all ages, she sparks imagination, inspiration, and admiration with each new release.
Whether you're looking for a specific edition or just want to know the history behind these timeless holiday toys, below you'll find anything and everything you want to know about each of the holiday Barbies.
The History of Holiday Barbie
1988 – This is the year we were first graced with this trendsetting classic. It all started when Mattel decided to shake up the world of dolls and collectible toys by releasing what would quickly become a holiday icon. The first Holiday Barbie, then called Happy Holidays Barbie, became an instant sensation with incredible demand. Her big hair and starlet smile are reminiscent for adults who were children in the 1960s. And her accessories, such as her tulle ball gown and oversized bow, stood out as a fashion-forward dream. Setting the bar high with the first release, it was time to plan the next iconic edition for 1989.
1989 – With a huge white ball gown complete with faux fur trim and matching cape, this stunning style made a dramatic statement on store shelves. Much like her previous style, Barbie also had the bountiful blond hair and large tulle skirt. The bow was replaced with a more understated snowflake-shaped hair accessory, and she wore a stunning red-jeweled necklace. The designers hit another year out of the park by creating a show-stopping follow-up to an overnight sensation.
1990 – How do you top two showstoppers in a row? Try being more inclusive and relatable to your fans. In 1990, Mattel introduced the first Caucasian and African American dolls into the Happy Holidays collection. This was also a headline-making style with huge tulle shoulder pieces in hot pink. Hot pink was a departure from traditional holiday color, but very much on trend. And, of course, the glittering gown was designed for celebration—and collecting.
1991 – This is the year that Seinfeld debuted, Johnny Carson cancelled his show, and Bette Midler topped the charts with From a Distance. After three successive years of having to design something more intriguing and spectacular, both the Caucasian and African-American holiday Barbies got their own unique styles. The Caucasian doll sported a black gown while the African-American version featured a glorious green. Both were adorned with silver and red sparkling accents and fabulously festive bows held their hair in place.
1992 – This year, Mattel returned to one design for both the Caucasian and African-American dolls—and what a gown it was. With hair similarly styled as the previous year, the new version had huge chandelier earrings accenting her face which also match the dangling gems from her sleeves and the glimmering silver tulle gown. The dress featured a slinky, chic bodice with a large tulle accenting hoop skirt and puffy sleeves that gave it a modern feel and sense that Barbie was floating. The detail work on her gown now contained what looked like gemstones and her hair piece was a band fit for royalty. Mattel did it again with this new feel and fashion.
1993 – The larger silhouette proved very popular with Barbie collectors, so Mattel went big again with a dramatic scarlet dress. Knowing that many collectors kept their dolls in the package for display, Mattel also introduced a new box that created a dramatic doll display. It was the ideal way to highlight the glamorous gown with red poinsettia-like shoulder straps, a leaf-patterned corset, and a stunning golden trim to counterbalance the red dress. This year came with another special surprise: Hallmark developed the first edition of the matching collectible holiday ornament to complement the doll.
1994 – This year gave Barbie some dramatic flair to her normal style. Instead of a small headband or large bow, her hair was nestled in a tiara of red-and-green holly berries. Her giant golden bell-shaped dress is adorned with large faux fur pipes separating the Victorian-patterned front from the glittery golden sides of her dress, designed to reveal a stunningly detailed underskirt. The full-length sleeves are accessorized with a bright sprig of mistletoe at the top, just above the tastefully plunging neckline. Red jewel-like accents on the fitted bodice beautifully offset the expansive skirts.
1995 – The designers have created something over the top for seven years. You'd think they'd be out of ideas, but not for Barbie. The 1995 holiday gown was inspired by the classic glamor of the late Victorian period in a gorgeous, jewel-toned green with silver holly leaves decorating the full skirt. A delicate lace underskirt is the perfect, lighter than air counterpoint to the rich fabric. The bodice is topped with a graceful petal-like neckline adorned with mistletoe that beautifully complements the festive floral jeweled red and green choker necklace, which also has silver accents running down her neck. A stunning hairstyle and stunning silver and green eye shadow complete this show-stopping look.
1996 – When you think of the holidays, what's more delightful than a Currier and Ives print? That was the inspiration for this year's look with the designers returning to the Victorian era. This was also the first doll to show Holiday Barbie dressed for the outdoors. She's ready for a sleigh ride or chestnuts on an open fire in a plush velvet, burgundy jacket with white faux fur at the collar and wrists. The opening of the coat is lined with golden stripes and three large red and golden buttons complete the center to hold the coat closed. Her gown is a tiered golden masterpiece and her hair is held neatly in a white fur cap accented by a matching burgundy and golden ribbon bow. When you've always done fashion forward, sometimes taking the past and making it modern can be a new way to shock and amaze. It paid off with this edition.
1997 – This year Barbie gave us not only looked like an angel with her ribbon wings and accented gown, but we got another surprise. Why should blonds have all the fun? Not only did we have the regular Caucasian and African American versions, but they found a friend names Teresa who happens to be a brunette. The opened red gown features golden adorned patterns that match the white fabric with golden patterns on the main gown. All three women have matching tiaras fit for an angel and the overall piece has a silhouette that could easily make them a perfect option for the top of a Christmas tree. Collectors now have three special editions they can add in this holiday release.
1998 – This year Happy Holidays Barbie traded in her previous look for a more refined elegance. Central to that is the new "Mackie face sculpt" that was introduced on this doll. Instead of a curly, free-flowing style, her hair is held in an updo by a silver tiara. In a year in which black was especially hot for evening wear, Barbie is, as always, completely on trend. This was the first of the Holiday Barbies to wear black, and the gown is a stunner. It feature a long, bell-shaped black gown has long silver accents creating movement and flow. Her waist is wrapped in a luxurious band of silver design and her top has silver beads to shine and sparkle. If the drama and flair of this gown isn't enough, the designers gave her a huge, hot pink shawl to go over her shoulders and frame her face and hair before dropping gracefully to her waist. Her necklace was replaced with a choker that is part of her gown. Sophistication, glamour and elegance are the only ways to define the style of this year's edition.
1999 – Nicknamed "The Millennium Princess", this new edition doll was a breathtaking way to move into a new millennium. Available in all three versions (Caucasian, African American, and Brunette), her gown was a beautiful blue with puffy sleeves covering her upper arms. The front of the dress was a stunning silver which leads up to a pattern of festive accents around her chest and waist. Her neckline was covered by a large silver collar and she is holding an ornament that wishes you a happy new year on it's silver bow.   The "Millennium Princess" Barbie's hair is held in place by a stunning crown fit for a princess in 1999 and a queen in 2000.
2000 – After the new nickname in 1999, Happy Holidays Barbie got another reinvention. This year she's called "Celebration Barbie". Holding a large and sparkling, white ornament that says 2000, this festive edition is a "golden" celebration of all things new and festive. Her gold gown features silver snow flakes off of the front that float above the exposed white tulle that creates the bell. Her chest is covered by a patterned golden corset and she has a white faux fur shawl to keep her neck and shoulders warm. Her hair is pulled back under a crown and her makeup is purely formal. Celebration Barbie is the definition of class and elegance.
2001 – This year's Holiday Celebration Barbie is a stunning example of empowerment. She stands stoic in her red and white gown. Her hair flows from her queen's tiara around her arms and over her large white, fur-lined shawl. Her white dress has a stunning pattern on the chest that flows into a star studded white ball gown. The 2001 edition also brings back a jeweled necklace that perfectly pulls the entire piece together.
2002 – Holiday Celebration Barbie has another glamorous look this year. Her gown is a stunning deep-red with a thin sparkling bow that flows from her gown into a large shawl. The bodice features a matching red print that resembles branches and leaves over a pink base that matches her clutch. Her necklace is short and her hair is pulled up and through a band of dark red jewels that match the red of her shawl.
2003 – This year collectors were in for another fabulous surprise. Although the box says "Holiday Visions", she quickly adopted the name "Winter Fantasy". In an all-white long coat, her sleeves and collar feature a fabulous faux fur. The jacket is opened revealing a sparkling silver gown. Her hair is back in an updo held together by a jeweled tiara. Instead of a neck, she's wearing a large jeweled accent piece with a chain that crosses her waist.
2004 – If the show-stopping white number wasn't enough in 2003, this year you get color options (but only if you found the Sears limited-edition doll in red). The standard collectible is set in a gorgeous green bodice that sparkles. Her sleeves are ¾ length and flow up to her collar. The gown is long and features gorgeous silver lines. Her neck shows off a choker with a large green gemstone in the center and her hair is pulled back through a band of green beads. Instead of an updo or being pulled back, her hair matches the earth-mother feel of the gown and flows along the back of her gown with a large-curled strand in front.
2005 – This year, our stunning beauty got a new gown from renowned designer Bob Mackie. Her asymmetrical dress has a huge tulle accent the extends from the ribbon on her right shoulder down through her gown. The ribbon wraps her like a gift, featuring a split on the left side of her gown that drapes along the right. Her white gown is accented at the bottom with silver lined frosted icicle shaped cuts and finishes at the base with layers of pink tulle in different shades. Her earrings are huge drops and perfectly match the oversized, jeweled necklace and her green and white tiara. This dress is truly a high fashion holiday sensation!
2006 – This year, Holiday Barbie is dressed in black. This bell shape gown has a faux fur trim on the bottom and collar. The dress is adorned with gold patterns and multi-colored jewels. Her hair is pulled into a tight braid and off to the side flowing from her crown. She accents her dress with dangling earrings made from golden stars and gemstones. The bodice features gold piping and a star at the peak of her chest instead of a necklace or choker.
2007 – This stunning and strapless gown is a red velvet ensemble modeled after Santa himself. Her jacket flows over the bell-shaped bottom and features a festive white faux fur trim. In between the jacket and gown there is an additional layer of black lace for a luxurious accent. Her waist features a "santa-esque" belt and protruding from her corset is the same black lace from under the jacket to add even more flair. Her hair is pulled back through a white faux fur headband and her necklace has a thin chain with a large dangling snowflake. This is an amazing take on a Mrs. Claus or Santa-style that only an icon like Holiday Barbie could pull off.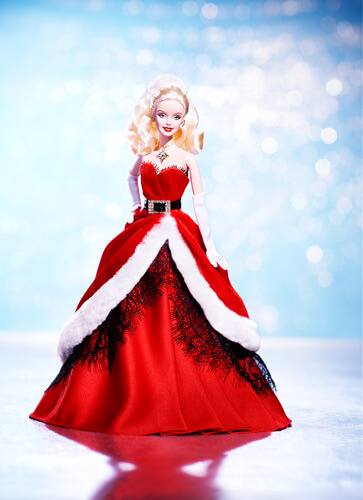 2008 – Coming right from the silver screen, this doll fetes the 20th anniversary of Holiday Barbie. She wears a glorious triple-tiered silver gown that matches the one from her version of "A Christmas Carol". This dress screams haute couture with its oversized silvery white bow, sheer fabric sleeves, and stunning silver snowflake adorned white bodice. Her long curls are pulled off to the side and her stance is powerful yet elegant. Her long dangling, jeweled silver earrings perfectly match the bracelet on her right wrist. The makeup is perfection with her bright red lips, black eyeliner, and a smoky eye.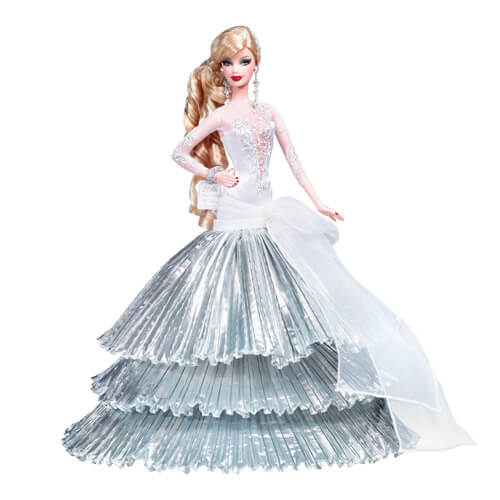 2009 – This golden lace-wrapped bodice extends into a brilliant pink tulle ball gown. The gold lace turns into an oversized golden bow on her back, and rhinestones lead from the base of her bodice to the top of the skirt. Her golden chandelier earrings are oversized and feature pink gems to match the colors of her dress.
2010 – Her bodice has a stunning Victorian-inspired gold and red print fit for a queen. Her shrug shawl is red and flows down to the back of her dress. Her hair is pulled through a golden headband and her large white tulle ball gown is accented with a thin red bow made from curled ribbon. The bodice and skirt are also connected via red and gold rhinestones that match her gold-and-red dangling earrings.
2011 – This gorgeous gold and green gown is chic, sleek, and extremely unique. It features a sassy sash over her shoulder with a fun gold embroidery around her neckline and has accents throughout her dress. From the back you'd expect a long ball gown, but when you see the front you experience a glamorous and sleek golden gown accentuated by fabulous lines, curves, and shapes that create a stunning effect. Her hair is styled into big curls  that have a vintage but modern feel. Her lips pop in a dark cherry red and her eyes are highlighted in silvery green hues. The earrings tie the look together in a dangling gold that match her dresses trim. aRobert Best did an amazing job with his version of the 2011 Happy Holiday Barbie.
2012 – Back in red, Holiday Barbie looks like a rose. Her red satin gown has a floral texture to it and is accented by a huge bow that wraps around her bodice. The bow, which comes down the tulle bell skirt, is adorned with a sparkling silver pattern that perfectly matches her luxurious silver necklace and earrings. With red nails, red lipstick, and smoky eyes to match, she is a red holiday masterpiece that will make any collector's heart melt.
2013 – Holiday Barbie turns 25 this year. The perfect way to celebrate her silver anniversary is with a silver ensemble. Her large bell gown is accented at the top with white snowflakes that flow from her skirt up through her bodice and to her left shoulder. Her gorgeous dangling silver earrings are the perfect accessory to add that extra wow factor without going overboard. This is the perfect silver gown to match her silver anniversary.
2014 – Red and gold are this yea
r's colors. Barbie is ready to party in her fun red gown that opens in the front to reveal a floral printed golden tulle skirt. The top of her bodice features a festive gold print and the center is solid red. The front features a thin ribbon bow and her necklace is a huge but stunning accent piece.
2015 – This year is absolute elegance. Holiday Barbie is wearing a silver accented red corset that flows into a long and ruffled red gown. The dress opens to reveal a shining and festive silver-and-white floral printed inset. Her long dangling silver earrings and perfectly styled hair help to keep your eyes moving around this doll while never running out of new details to discover. It is an absolutely breathtaking representation of Holiday Barbie.
2016 – It's been a while since the designers have thrown us for a loop. This year, collectors and fans are given a huge and fabulous surprise. Dress color choices! You can chose from three different ombré gowns that fades from powder blue to dark blue, white to turquoise or burgandy to red. The skirt has a gorgeous gradient that leads up to a bodice made of snowflakes. Her hair is tucked under itself and made to run down her back. This new edition perfectly represents the style of 2016 and is an amazing way to get ready for the holidays. Calm, friendly, soothing and stunning.
What Do The Packaging Terms Mean
If you're new to collecting, there are phrases you'll see on the packages or product descriptions (based on where you're shopping). It could be mint or NRFB. Here is a quick guide to help you decide which Holiday Barbie you should buy, especially if you're shopping in an online marketplace such as Amazon or eBay. Note: Because the listings aren't always accurate and may be uploaded by a biased seller, you cannot rely 100 percent on these terms or phrases. Use them as a starting point and guide, and then check the seller's history.
Mint (M) – This means the doll is in mint or pristine condition.
Mint In Box (MIB) – If you find an MIB doll, then it is in mint condition and still in it's original box or a box from the original design. That does not always mean that it hasn't been removed, but it is in the packaging.
New (N) – This means the product is like or is new.
New In Box (NIB) – This means the product is in new condition and still in its box.
Never Removed From Box (NRFB) – If you find this label, that means the collectible is still in its original box and packaging. That doesn't mean the packaging won't have dents, scratches or flaws, but it does mean that the item has not been removed.
New Out Of Stock (NOS) – Sometimes a warehouse or store will find a box of product that hasn't been available for a long time. When you find NOS on a listing, the product is new and out of stock.
Sealed Box (SB) – This label means that the box is still sealed. You may come across some that have been resealed, but for the most part it is supposed to mean that it is still sealed.